Today my husband gave me roses.
Not the long-stemmed variety. No matter where I put fresh flowers, the cats find them. And eat them. And leave little surprises of vomit all over the house.
No, my husband gave me tree roses. Long bare branches in black plastic bags.
And I put them in the backyard, in the sunshine, against the brick wall, where I can admire them from the kitchen window.
Yes, I am admiring the bare branches...because I know their potential! I know the Queen Elizabeth rose will be covered with pink blossoms, and the Mr. Lincoln rose will have wonderfully fragranced red blooms. I read the labels, and I know what the future holds.
Do you feel like a bare branch today? Rejoice, my friend, for God sees your potential. He knows the blooms you will someday wear. He knows just where to plant you, just how to feed you and trim you. He is faithful. The blooms He has in mind for you may be quite different than what you are picturing, but you will bloom. Trust Him.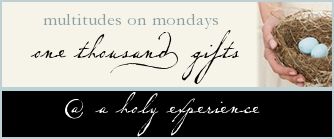 As I count my blessings with the
Multitudes on Mondays
bloggers, I am grateful for
my nine year old and her artsiness,
my six year old and her take-life-as-it-comes attitude,
my five year old and her ability to make us all laugh,
my husband--everyone calls him "Amazing" and I just call him "Mine"-- (thanks, Martina McBride for that very quotable song),
my best friend and her phone calls while we clean house (note to self: find Bluetooth attachment so you don't get a sore neck next time you're cleaning and talking on the phone...),
my friends who visited last night and the fun we had discussing life as creative Christians,
my friends who wanted to come last night but were ill (note to self: more vitamins today....),
and the Light of the World who speaks to me through His Word, His sunrises, and all the people mentioned above.