This is the second in a series of posts praising God, specifically focusing on three Names of God. Today we praise the God Who Sees.
An Old Testament woman named Hagar was the first to call God "The God Who Sees." Hagar was a slave to Abraham's wife Sarah. Sarah ruled over her staff. She knew that God had promised Abraham that he would be the father of many nations, but they'd been married for decades and they were still childless. Sarah decided it was time for this promise to be fulfilled, so she suggested that Abraham could have a child by Hagar. This was not at all shocking in their culture, but it shows us Hagar's lowly position in the household: even her body belonged to her owner.
Sarah, struggling with the grief of infertility, didn't foresee the emotions that would consume her when her slave was carrying Abraham's child. Jealousy and anger overruled any feeling of joy, and it didn't help that Hagar developed a bit of an attitude. So Sarah irrationally sputtered at Abraham, "You are responsible for my suffering!" (Genesis 16:5), and he told her to handle the matter herself. So Sarah made Hagar's life miserable and Hagar ran away to the desert. There she met the Angel of the Lord, and He told her,
"You must go back to your mistress and submit to her mistreatment." The Angel of the Lord also said to her, "I will greatly multiply your offspring, and they will be too many to count." Then the Angel of the Lord said to her: "You have conceived and will have a son. You will name him Ishmael, for the Lord has heard your cry of affliction. This man will be like a wild donkey. His hand will be against everyone, and everyone's hand will be against him; he will live at odds with all his brothers." So she named the Lord who spoke to her "The God Who Sees," (Genesis 16:11-13)
This does not sound like a very comforting message, but Hagar seemed to focus on the one detail that was incredibly encouraging: God saw her. God knew every detail of her situation, and cared enough to speak to her.
Many Bible scholars believe that the Angel of the Lord mentioned in the Old Testament is actually Jesus. This is a mind-boggling thought! God Himself talked to a runaway slave girl, a girl of extremely small worth in her culture, a girl with no rights or privileges. God saw. God knew. God cared. And He sees you and cares about you. Praise Him!
The Lord looks down from heaven; He observes everyone. He gazes on all the inhabitants of the earth from His dwelling place. (Psalm 33:13-14)
The Lord looks down from heaven on the human race to see if there is one who is wise, one who seeks God. (Psalm 14:2)
Now the eye of the Lord is on those who fear Him— those who depend on His faithful love. (Psalm 33:18)
Whoever confesses that Jesus is the Son of God—God remains in him and he in God. And we have come to know and to believe the love that God has for us. (I John 4:14-15)
Tomorrow, we'll look at three Greek words that express thankfulness and praise.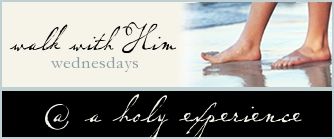 Walk with Him Wednesdays focuses on spiritual practices, such as praising. This post is adapted from my book
Praise Patterns
, and is part of a message I shared at Shiloh Bible Camp.