My online friend Linda at
Being Woven
mentioned the book
One Thousand Gifts
, by Ann Voscamp. The subtitle of this book is "A Dare to Live Fully Right Where You Are." I liked the sound of that, so I ordered the book. I found a discussion of this book at
Incourage
and I decided to join.
Today the book arrived and I rushed through the first chapter. I had to hurry because the first chapter was so emotional, and I didn't have time to be emotional today. The chapter describes the griefs the author has experienced. Those griefs were a little too close to home. She writes of losing her sister when they were both children, and later losing two infant nephews. At least I think those were the losses mentioned. I can't go back and re-read that part right now. I cannot absorb the heartbreaking words. This month it is eleven years since my first miscarriage--a different loss than those mentioned in the book--but the loss of a child at any stage of life is heartbreaking. At the time, I felt as if I wasn't really supposed to be grieving--after all, I hadn't met my children--and somehow that just added to the grief. I wasn't sure the rest of the world considered my grief valid. And that hurt.
So...I rushed through those first few pages of
One Thousand Gifts,
struggling with memories
.
And then I came to this beautiful thought:
I wonder... if the rent in the canvas of our life backdrop, the losses that
puncture our world, our own emptiness, might actually become places to
see.
To see through to God.
That that which tears open our souls, those holes that splatter our sight,
may actually become the thin, open places to see through the mess of this place
to the heart-aching beauty beyond. To Him. To the God whom we endlessly
crave.


I can testify to the truth of that statement. Certainly the losses in my life have become places to see through to God.
I look back at my miscarriages and I cannot say, even eleven years later, that I am thankful for them. No, they are wounds that, though no longer requiring a bandage, have certainly left a scar.
But I can say that those losses made me who I am today.
They made me call out to God as I never had before.
They made me read the book of Psalms with a desperation I had never felt before.
They made me trust in God's sovereignty. It was easy to see that God had some beautiful purpose for my babies to fulfill in heaven. But to trust that there was a purpose for me...that there was a point to all the tears and grief...that was harder.
Most of all, losing Robin and Hope made me realize the presence of God with me. It didn't matter what the rest of the world thought of my grief when the Creator promised to carry my sorrows.
That
is a gift. That is why I can live fully right where I am.


Remember, I am with you always, even to the end of the world. (Matthew 28:20)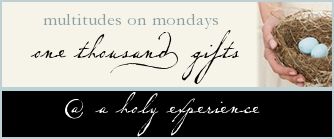 You can read Ann Voscamp's blog
here
.
I looked at a few "Multitudes on Mondays" posts (see the button above) and I see that other participants are listing blessings. I don't know that I really want to number them. That seems far too organized for me. But here are a few of today's blessings:
*That orange scarf hanging in my closet--a duplicate of the one my youngest daughter gave me for Christmas and I promptly lost. I found this on clearance a few days ago.
*My children joyfully singing together in the backyard after a few Monday squabbles.
*Guacamole. Homemade. By my Husband.
*Catherine Martin's
A Heart that Hopes in God
study and all the women studying this with me on Tuesdays.